Michael Arnowitt 50th Birthday Gala Concert
a special program of music for piano and orchestra
Sunday, January 6, 2013
2 pm
Montpelier High School Smilie Auditorium
Montpelier, Vermont

Michael Arnowitt, piano soloist
Scott Speck, conductor
with a professional orchestra of 55 musicians


So far, we have raised $16,250 of the $19,000 we need to assure the concert will go off OK financially. We'd love it if you can help us reach our fundraising goal. You can donate electronically through PayPal by pressing the button above (no account needed) - to donate by regular mail or if you wish your donation to be tax-deductible, click here.
About the Concert
Vermont celebrates pianist Michael Arnowitt's 50th birthday and his nearly thirty years of music and community projects for the area with this amazing "musical fantasy" of a concert with full orchestra.
Michael will be featured as piano soloist, composer, and arranger in an exciting concert with a symphony orchestra of 55 musicians led by the renowned conductor Scott Speck. Maestro Speck has conducted orchestras at the Kennedy Center, Moscow's Tchaikovsky Hall, London's Royal Opera House at Covent Garden, and the Paris Opéra. Speck has conducted many of today's leading classical music performers, including Yo-Yo Ma, Itzhak Perlman, Evelyn Glennie, Joshua Bell, and Midori.
Other soloists on the program:
David Gusakov, violin in "Bulgarian Hoedown"
John Dunlop, Bonnie Thurber Klimowski, and Rob Bethel, cello soloists in "Haiku Textures"
Scott Speck, conductor and Michael Arnowitt, pianist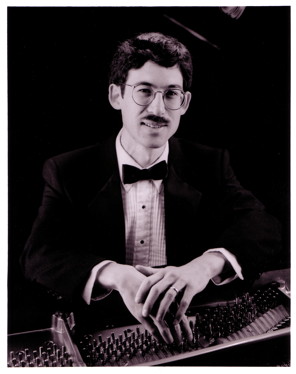 About the Program
Michael has created a beautiful and colorful program for this gala event.
| | |
| --- | --- |
| Johannes Brahms | Piano Concerto no. 2 in B-flat major (entire) |
| Sergei Prokofiev | Piano Concerto no. 2 in G minor (first movement) |
| J.S. Bach | Italian Concerto, arranged for piano and orchestra by Michael Arnowitt |
| Michael Arnowitt | premiere of a new classical composition, "Haiku Textures," for three cello soloists and orchestra |
| Michael Arnowitt | his jazz tune "Bulgarian Hoedown," arranged for jazz violin, piano, upright bass, drums and orchestra |
Here's a little more about each piece:
Brahms' Piano Concerto no. 2 in B-flat major. Brahms is Michael's favorite composer, and many have found his performance of the Brahms A major Intermezzo at the end of Susan Bettmann's acclaimed documentary film, Beyond 88 Keys, profoundly moving. This concerto is one of the very best ever written, with its famous uplifting French horn opening, the exceptionally beautiful cello melody of the slow movement, and a joyous finale.
Why is Brahms Michael's favorite composer? Click here to find out.


The first movement of Prokofiev's Concerto no. 2 in G minor is a powerful, deep piece with an absolutely astounding piano cadenza – to hear this amazing moment in the concert hall is what live performance is all about.
(picture of Prokofiev)
Two pieces of Michael's own: Haiku Textures, a premiere of a new classical composition for 3 cello soloists and orchestra, influenced by Japanese haiku poetry, and his up-tempo jazz tune, Bulgarian Hoedown, arranged for jazz violin (David Gusakov, soloist), piano (Michael), bass (Clyde Stats), drums (Todd Watkins), and orchestra.
For a description of Haiku Textures, click here.

(haiku graphic)
Bach's Italian Concerto will be given a twist: Michael will be "reverse engineering" the music from its familiar solo keyboard form to Bach's likely initial conception of this piece as a concerto for piano and orchestra, using clues from the surviving music, Bach's other keyboard concertos, and Arnowitt's knowledge of concerto form.


About the Orchestra
The orchestra will be a mix of players from Vermont and points further afield – Maine, Boston, Connecticut, New York City, and even as far away as Pittsburgh. Michael will be supported on stage by a high quality orchestra of professional musicians who have played with orchestras such as the New York Philharmonic, the Boston Symphony Orchestra, the St. Louis Symphony Orchestra, the Vermont Symphony Orchestra, the Albany Symphony Orchestra, other major New England orchestras, and even orchestras in Europe. The birthday gala orchestra's concertmaster for the event is the Vermont Symphony Orchestra's popular concertmaster, violinist Katherine Winterstein of Boston, and the first French horn, a very important instrument in the Brahms concerto, will be the outstanding musician John Boden, principal horn of the Portland Symphony Orchestra, . Approximately half the orchestra are top players from Vermont, from all different parts of the state. Michael contracted the musicians himself and reports they are really psyched for this concert and, as one of them put it, "this will be a blast!"
Praise for Michael Arnowitt and the Birthday Gala Concert
From an editorial in The Montpelier Bridge:
"It's not often at The Bridge that we enthusiastically promote a concert with a performance date that is more than six months into the future. But in this instance, we do just that. Here is a wonderfully ambitious idea for a gala and glorious birthday concert with full orchestra that will honor classical music and recognize the many contributions of Michael Arnowitt as he turns 50. ... For almost 30 years, Michael has been a musical force in our community. Not only has he shared his talent, but he has also provided performing opportunities for Vermont musicians, both professional and amateur. We warmly encourage lovers of music and admirers of Michael Arnowitt offer their financial and volunteer help to this spirited and magnificent concert idea."
From the editorial "Human Concern" in The Times-Argus after a 1999 benefit event Michael organized for humanitarian aid for Balkan war refugees:
"Not only do Vermonters care about distant places like Guatemala, East Timor and Tibet; they're also ready to act on their human concern. That spirit of concern was much in evidence on Wednesday night in Montpelier, as concert pianist and social activist Michael Arnowitt organized and played at a benefit concert to aid the victims of the war in Kosovo. Arnowitt has shown once again that his conscience is every bit as impressive as his cadenzas.
Not only was the concert packed, but the evening raised more than $10,000, and generated a profusion of emergency kits and clothing to help the Kosovo refugees. It's good to know central Vermonters feel deeply about war and injustice. It's even better that they can also take action to ease the world's pain."
Testimonial of the internationally-renowned flutist and composer Louis Moyse – this statement written when Moyse was in his 90's)
"During my long musical career, I have met few really great artists in the various disciplines of the field and I am very pleased to name Michael Arnowitt, pianist and musician as one of them.

"Michael combines all the necessary qualifications and qualities to express his art on the highest level. I have great respect for his technical skill, his interpretation and his way to communicate to any audience his feelings through his love for music."
How to Make a Contribution to the Gala
Send a check to Friends For Michael's 50th, Jim McMartin, treasurer, 6 Mechanic St. Apt. 4, Montpelier VT 05602. Along with the theme of 50, we're suggesting donations in multiples of 50 ... $50, $100, $200, etc. If you wish to make your contribution tax-deductible, make the check out instead to our fiscal sponsor, the Monteverdi Music School, and write Friends For Michael's 50th in the memo line.

Or, click on the PayPal button here (no account needed).
Volunteer Help Needed!
The birthday gala is being organized by the Friends For Michael's 50th. Are you enthusiastic about this exciting celebration? Come join our efforts - our next meeting is:
Sunday, December 16 at 1 pm
99 Prospect Street, Montpelier

We'll be putting stamps and labels on a postcard mailing and perhaps some cake for Beethoven's birthday.
Click here to see a list of current specific volunteer tasks
We'd love your help in any of the following areas:
Helping with benefit concerts, grant research or writing, and approaching businesses for contributions


Help us contact potential media sponsors


Publicity - graphic design


Publicity - postering, mailings, flyering, contacting newspapers/radio/TV


Social media publicity - Facebook, Twitter, and blogs


Stage crew weekend of concert


Hospitality - we're looking for hosts for orchestra musicians who don't live in the area


Hospitality - food for the orchestra


Transportation assistance for performers and audience who need help getting to the concert


Helping to proofread the orchestral parts of the music Michael is composing for the event


General volunteer tasks - typing, phone calling, e-mailing help, miscellaneous internet research questions


About the "Friends For Michael's 50th"
The Friends For Michael's 50th (FFMF) is an all-volunteer group formed to organize and present the 50th birthday gala. Its members live in central Vermont and neighboring towns: Barre, Montpelier, Duxbury, Marshfield, Morrisville, East Montpelier, Danville, and Worcester.
The project is under the fiscal sponsor umbrella of the 501c3 tax-exempt Monteverdi Music School of Montpelier. Contributions made out in a check to "Monteverdi Music School" (put "Friends For Michael's 50th" in the memo line) sent to us will be tax-deductible.
Friends For Michael's 50th
Jim McMartin, treasurer
6 Mechanic St., Apt. 4
Montpelier VT 05602

Terri Kneen, secretary
802-279-5279


e-mail: MA@MAPiano.com